Be Caring Tyneside: Learning Disabilities and Autism Services (LIFE by Be Caring)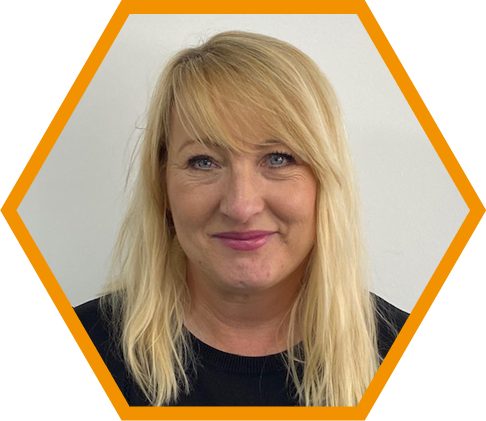 Karen Ford
Service Manager
(LIFE by Be Caring)
LOCAL LEADERSHIP
"At LIFE by Be Caring, we have witnessed amazing dedication from our frontline colleagues for the support they have shown our service users, putting themselves at risk during this pandemic to make sure nobody went without support. The message I got from our team was: "whatever needs to be done, we will all jump and do it." This has been the message from the beginning and is still happening today. The LIFE Care and Support workers have been amazing, and I am so proud to say I'm part of this company. The whole team is truly working to Be Caring's vision and values. Thank you so much to all of the LIFE team who have made this possible."
Overview
Our LIFE service supports adults and children diagnosed with Learning Disabilities or Autism in a range of settings, which includes; Independent Supported Living (ISL) services, outreach services and a 2-year supported living service at Allendale Court. LIFE was established in 2010, and now supports 100 people to achieve their potential and lead a fulfilled life. More than 120 colleagues provide 3,500 weekly hours of care and support to people living in Newcastle and Gateshead.
Colleagues who deliver the care they aspire to
Hours of care and support delivered every week
Colleagues that would recommend us as a place to work
Achie

ve

ments
Over the past 18 months, LIFE and Allendale have continued to maintain high quality care and support, and while Covid has presented significant challenges, people have continued to achieve their own personal outcomes. Our colleagues at LIFE and Allendale have people at the centre of everything they do – supporting everyone to have a fulfilled life.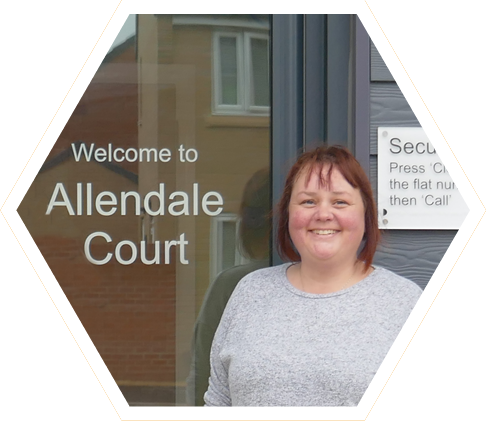 Tracy Dobson
Service Manager
(Allendale Court)
"I am immensely proud of the support team who became very creative at sourcing and encouraging in-house activities, which has helped a lot of the people we support throughout Covid. There has been a lot of challenges due to declining mental health, which are often outside the team's usual remit, however they have dealt with these and remain very positive in their delivery of support. The team have shown dedication to their role and the people we support throughout these unprecedented times and should be very proud of their conduct."
14 young adults with Learning Disabilities or Autism live at Allendale Court. Every person living at Allendale has their own Individual Service Fund (ISF), co-designing their support to meet their own outcomes, goals, and ambitions, with the ultimate goal to move on and live more independently within 2 years. Pre-Covid, much of their activity with our Support Workers was linked to community participation, employability learning and training, and independent living. At the start of the pandemic, we carried out a thorough risk assessment to protect everyone who lives and works at Allendale. 
As soon as lockdown was announced, we acted swiftly to limit the number of people entering the building and made sure those who did complied with strict handwashing and sanitising rules.  We limited the number of 1-to-1 sessions to 3 days per week instead of the usual 7, which reduced risk without eliminating people's support.   While peoples' safety continues to be paramount, it goes without saying the pandemic has massively affected everyone living and working at Allendale.  Many of the people we support have experienced new or worsening mental health issues – most likely the result of losing access to community activities and contact with friends and family. 
Pre-Covid, these provided much needed stability, connection, and opportunities for personal growth. For instance, two individuals took great pleasure in attending a local horse school, which because of Covid is now temporarily closed.  They remain separated from the animals and stable staff who they saw most days and with whom they had formed close bonds.  Colleagues have experienced more challenging behaviours since the lockdown. Some residents had difficulties understanding why they could not leave the premises or see their families and would become angry or upset. 
We've communicated honestly, offering clear guidance and support to develop everyone's awareness of what's happening.  Where possible, we encouraged everyone at Allendale to attend Covid-safe social activities, such as group art sessions, where we made supportive posters for the communal spaces and windows. Crafting materials, board games and puzzles were purchased, and residents helped liven the interior spaces by planting indoor flowerpots. To compensate for fewer 1-2-1 sessions, an additional member of staff was available to residents each day; encouraging everyone to join them in 30 minutes of exercise, often leading a small group outside for a walk and some fresh air.  We employed a driver, so that once a week, everyone in each apartment had the opportunity of travelling further afield – we have heard wonderful stories of coastal expeditions and fish and chip suppers!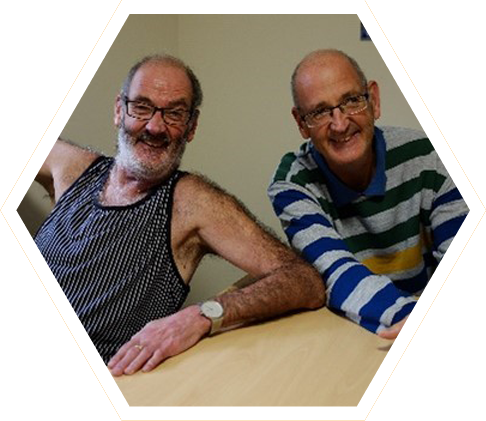 Mark and Michael
Service Users, aged 58
"We get 1-2-1s and occasionally some help with cooking if we want a proper Sunday dinner. I like to cook for Michael and some of the other people who live here. Mine and Michael's favourite meal is sausage, beans and chips. Some people are shy with new people until they get to know them, but we try to talk to most people."
We've both lived at Allendale since the beginning of February, before lockdown. We thoroughly enjoy Allendale – we settled in from day one. Mark suffers from epilepsy so has extra support here. Before, when we were at home, I had to look after my mum who was really poorly as well. She had cancer and needed a lot of care. She had chemo and radiotherapy and I had to be strong for both of them. When my Mum died last December, I couldn't think about my Mum in all this, because I had to be strong for Mark and make sure he was safe. We are very close as brothers.
Thanks to the medication Mark's much better, but sometimes when Mark used to have seizures at home, I thought I can only take so much. One day he had four in one day. Me and Mark used to have a few bust ups because I just couldn't take any more. I needed to have a break from being so strong all the time – to just think about myself and take the pressure off. Even to this day, I'm still there for him and I'm always going to be strong for him.
We understand what each other needs and look out for each other. Mark's condition means he needs to stay nice and calm, he's got to take it nice and easy, he can't get stressed or he gets agitated and anxious. Twice when I've spoken to the office about needing to keep Mark calm, they've listened which is good.
We get 1-2-1s and occasionally some help with cooking if we want a proper Sunday dinner. I like to cook for Michael and some of the other people who live here. Mine and Michael's favourite meal is sausage, beans and chips. Some people are shy with new people until they get to know them, but we try to talk to most people.
We've worked at a local stable in the middle of Stepney Bank for 28 years. We used to ride horses for the first 14 years, but unfortunately after that there weren't any horses big enough for us to ride. Recently, the lady we see for our 1-2-1's has found another stable for us where we can ride the horses. We've already been and looked at the horses. Once this stupid corona virus is over, (which I'm cheesed off with!), we're hoping to go and ride the horses at these new stables.
[Michael] I also used to renovate furniture (I'd take all the wood off) and during my lunch hour I used to go to Stepney bank, sometimes I was late getting back because I'd rather be with the horses! I loved it straight away and I've been riding ever since. I've been thrown off a few times! [Michael] I walk every day out from Allendale, over the bridge to the fields where people walk their dogs. My two favourite hobbies are horses and dogs – so I've got to know some of the people who are out every day, I like to stop for a chat. The whole walk usually takes me about an hour. (Well not every day – not when it's raining!)
When we leave Allendale, we're planning on living together in a bungalow being built back near our Mum's old house. We were born and bred in that area. We'll continue with having the 1-2-1s, so someone will pop in to make sure everything's OK.
Our Priorities
COMMUNITY ANCHOR
LIFE by Be Caring and Allendale Court truly deliver person-centred care and support for people with Learning Disabilities, Autism and Mental Health needs. Our outcomes focused model of care truly helps people live more fulfilled lives, and our colleagues live and breathe our values. Over the next 12 months, we want to establish ourselves as a Community Anchor.
OUTSTANDING CARE
We will achieve CQC Outstanding in at least one Key Line of Enquiry (KLoE) at our next inspection
We'll continue to maintain our high performance and priority focus on care quality, demonstrated by our compliance metrics. We'll continue to evidence, that as a service, and as a management team, we promote person-centred care and that our Support Workers know people's preferences, that they champion choice, flexibility and control, and that they act promptly to respond to need. We're confident that we will achieve at least one Outstanding KLoE and can already demonstrate, with evidence, the ways in which we have the characteristics of an Outstanding service, for example, we:
Use our data, evidence and expertise to make improvements
Our colleagues are exceptionally kind and compassionate, going above and beyond to exceed expectations
Support community participation in and out of peoples' home
COMMUNITY PARTNERSHIPS
We will establish ourselves as a community hub and partner
Our ambition, through our LIFE and Allendale service, is to establish ourselves as a Community Anchor – utilising our buildings, our skills and assets to provide a wide range of opportunities for our service users and their families. Building on our existing partnerships with local community organisations, we want to develop those relationships and co-design offers that support the health, wellbeing and skills of our service users and their families – connecting people into the wider community and scaling the knowledge and skills of our colleagues to ensure those offers are understood and promoted, as well as creating new offers where it makes sense.
SUSTAINED GROWTH
We will achieve small but sustained growth
One of our key priorities is to sustain small growth, building and developing stronger relationships with Social Workers, Case Managers and our commissioners. We've experienced a loss in delivery through Covid, predominantly as a result of lockdown and community venues closing – and therefore community outreach services being stopped or reduced. Over the next few months, we aim to build the hours back to previous levels. We want those working with us to know that we're a trusted provider and that those who chose Be Caring for their care and support, know they'll co-design their service and have choice and flexibility from the start.
Our Colleagues: Meet John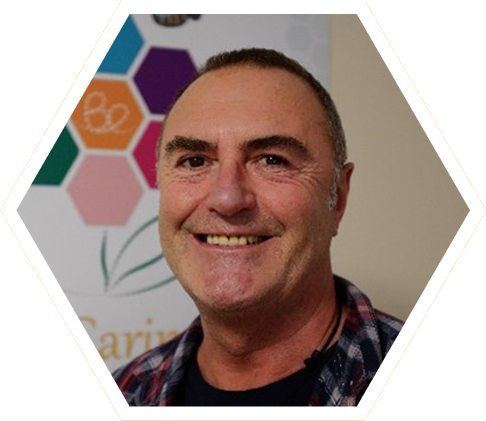 John Harris
Support Worker (Allendale)
"You get the satisfaction of getting on with a certain person you're working with – forming a connection with someone, it really makes the job worthwhile. You get a smile, and you think 'great, I've achieved something there'."