"We'd like to empower our colleagues to really support their clients at a local level, in achieving the outcomes that they want to achieve. The only way we can do this is by developing partnerships, by being honest and working together."
Our priority over the next 12-18 months is to continue our transformation journey, to keep understanding and improving the business – the biggest marker of success will be that we

achieve CQC Outstanding

in at least one area (Key Line of Enquiry – KLoE) in every service, whenever they are next inspected – that's our ambition.
To ensure we achieve our ambition, we'll be focusing our efforts on:
Continuous improvement of our operating model

– where the people we support have the care and continuity they want and where colleagues know when and where they're working – through effective co-ordination and rota management supported by well organised office teams.

Investing in training and learning

including a career development pathway that will see people progress into Social Work, Nursing or Therapies within 7 years of joining us.

 
Bringing employee-ownership to life

through local Voice champions who will support fellow colleagues, the people we support and the communities we serve. 
Externally, we'll continue to develop local and strategic partnerships that will enable us to:
Transform homecare

by working in partnership with commissioners, health and social care partners and the voluntary sector We want to deliver care that is flexible, person-centred and supports people and communities to achieve their fullest potential

Strive for better terms and conditions

by campaigning at a local and national level with the GMB, which will see the publication of an

Ethical Commissioning Charter
Growth and Sustainability
Over the next 12-18 months we'll continue to support our local leadership teams to embed best practice operating models that ensure we're delivering high quality care with regular Care and Support workers as part of a local Care Teams, supported by improved retention, and where our colleagues feel confident that their income is consistent and stable.
Sustainability
Our Ambition: 3,000 – 5,000 Weekly hours delivered by every home care service
We're very clear that the only way we can really ensure that our frontline colleagues are valued, that they are paid properly for the care they deliver, within the current task and time, hourly commissioning models, is to remove as much 'waste' from the operating model as possible.
We're already demonstrating that this is possible, for example in our Leeds service, where we're now paying 45 Care Workers on block contracts – where colleagues are paid from start to finish, not per call.
To achieve this, we've developed some key principles and are putting in place the structures and resources to make our home care services sustainable within current contracting arrangements:
Care services, the people we support, must be close together – reducing travel time between care calls – so that the income received (per call only), is passed on to our colleagues
Overhead costs – back-office functions – are lowered through growth. The more care service we deliver within existing team structures, the more income can be passed through to our frontline colleagues – for their non-contact time.
Hourly commissioning rates must be sufficient to allow us to generate a surplus that can be passed on to colleagues and/or invested in their development
Contracts must have mechanisms in place, contracting arrangements, that allow providers to achieve a density of provision in a geographical area. This enables us, as a provider, to focus our delivery in a local community, to be part of that community, and to maximise our delivery – our contact time with the people we support – and as a result are able to support people differently (see transforming care)
Operating Models
Our Ambition: 90% of colleagues feel listened to, and their opinions seem to count
The principles outline in the 'sustainability' section can only be achieved with a strong team, working on the office and in the community to ensure efforts are focused on the right things at the right time.
Over the past 2 years, we've brought people from outside the sector, to bring a different perspective and experience to the sector. We absolutely recognise that we cannot replace the knowledge of those with direct care experience, but we also know that the sector is under-developed, often relying on the goodwill of frontline workers and Registered Managers who frequently go above and beyond without pay.
We have tested our operating model, monitoring, and evaluating it against key performance and quality metrics, and will continue to develop it until we're able to achieve sustained growth and quality service delivery, marked by:
Responsive teams focused on the right things at the right time – dealing with potential issues early – investing time upfront to reduce and remove failure demand (dealing with things such as complaints that could have been prevented with early conversations).
High quality, accurate information, and data – supported by our information systems – where everyone understands their role and the importance of recording and reporting changes in service user needs, and sharing this with each other so we can coordinate any permanent changes to care services.
An empowered frontline workforce, where colleagues have the space and freedom to reflect and make decisions that ensure every care service is truly person-centred. Where the reporting and recording of information, and responsiveness of office-based colleagues – enables our frontline colleagues to go above and beyond for the people they support. Currently, 77% of our colleagues feel listened to, and feel their opinions seem to count – we want to get this to 90%.
Outstanding Care
Our Ambition: CQC Outstanding in at least one KLOE in every service
All our services are CQC registered and are assessed against 5 Key Lines of Enquiry (KLOEs); Safe, Effective, Caring, Responsive, and Well-led. All our services are rated as Good by CQC and most will be inspected in the next 12-18 months.
Our ambition is to achieve Outstanding in at least on KLOE for every service. Since the start of 2018, only 2% of all regulated services in England achieved outstanding. Outstanding services are innovative and exceptional – they go above and beyond what is expected.
Our investment in our team structures, our systems and getting the foundations right, will mean we are in the strongest position to achieve Outstanding through:
Effective reporting, recording and auditing, evidencing our achievements and commitment to continuous improvement
Empowering our teams and frontline workers to make decisions, be responsive and solve issues and problems, keeping the people we support, and their families, at the heart of those decisions – providing high quality, person-centred care
Realise the potential or our colleagues, investing in their learning and development – through mentoring, shadowing, formal and informal training – creating the space for colleagues to be the best they can be
Investing in our People
We will invest in our colleagues, in their learning and development and informal opportunities to celebrate their success and realise their potential – we will create opportunities for our colleagues to excel, to test their skills and use their knowledge and relationships for the benefit of our colleagues, the people we support and our communities.
Employee-ownership in Action
Every service will have Voice Champions mobilising local action for colleagues, the people we support and our communities
As an employee-owned organisation, every single one of our colleagues owns a part of Be Caring, which means colleagues have a voice, are able to influence the decisions made at an organisational level and have direct impact on how services are delivered locally.
Our colleagues also benefit from gift vouchers for their birthday and at Christmas. In the new year, we're going to re-launch Voice, our employee-ownership forum, at a local level, so colleagues can get involved in different projects and programmes, around key themes, but principally, these themes will revolve around 3 main areas:
• Colleague engagement – informal peer support, reward and recognition as co-owners through our Above and Bee-yond Awards, and more formal mechanisms that allow colleagues to influence key decisions
• Service user engagement – co-design and feedback embedded in service delivery with mechanisms to support change and improvement – not only of individual care services but how we respond as a service and organisation
• Community impact – local partnerships, fundraising and awareness events, training and support for service users and their families – to promote community engagement and access to local assets
Career Pathway in Homecare
We will have a career development pathway from entry level through to level 7 for Care and Support Workers
From recruitment and onboarding through to leadership roles in the organisation, we have formal accredited training opportunities as well as bespoke in-house training, shadowing and mentoring.
Most recently, we've started 6 colleagues on the Assistant Practitioner qualification, which has learning units matched to Social Work, Nursing and Therapies up to level 5, and work placements with our health and social care partners.
Assistant Practitioners work as part of the wider health and social care team and have direct contact with patients, service users or clients providing high quality and compassionate care. Assistant Practitioners work at a level above that of Healthcare Support Workers and have a more in-depth understanding about factors that influence health and ill-health (e.g. anatomy and physiology). Assistant Practitioner is a job title applied to a very wide variety of roles that have been developed locally by employers to meet individual service need. Upon successful completion of this standard, individuals will have obtained the core skills, knowledge and values/behaviours to become an Assistant Practitioner.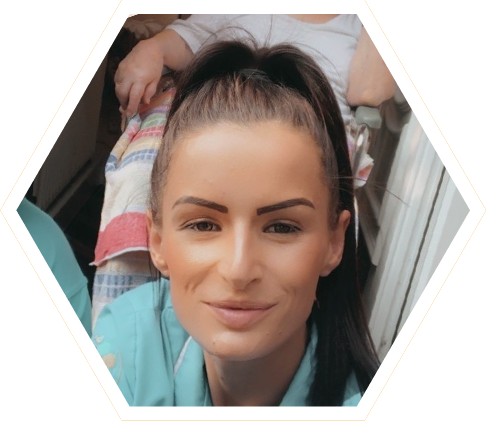 Pippa Holdsworth
Assistant Practitioner
(Leeds)
"This goal, this hope of having something to look forward to, is giving my client a real boost to her mental health. It's so rewarding to see that something so simple can have such a massive impact".
Pippa is one of our first Care Workers to go through the Assistant Practitioner qualification. Working within our home care service Leeds service as a Care Worker, and is known for being incredibly kind, having a great sense of humour, and truly going above and beyond for her service users. One colleague said: "Pippa works on her own initiative, if there's a problem, she gets it sorted quickly. She supports the company too, picking up work often to help us out, without complaining. She is also a good laugh, which is important in this kind of work. She also asks for professional development experience because she wants to do her best for the clients. She is kind and professional, a real asset to Be Caring." Another said: "I love to work with Pippa, she goes above and beyond for service users, making them laugh and looking after their wellbeing."
Already an experienced Care Worker, Pippa applied for the role as her true passion is caring for others, improving peoples' lives and giving them their independence. She also loves being out and about in the community, meeting people. Speaking about applying for the Assistant Practitioner role, Pippa says: "In life you have to grab every opportunity with both hands, and this one came at the perfect time for me!"
The Assistant Practitioner role is different from any that we've had before and will run in conjunction with our Community Teams pilot. Pippa will be one of our pioneers in bringing about a huge culture shift, introducing a Community Teams model, where Care Workers are empowered to act locally rather relying on schedules and tasks set by the office team.
As an Assistant Practitioner, some of Pippa's time is protected so that she can focus her efforts on non-direct care such as; making referrals and supporting access to local voluntary groups, supporting Care Workers to identify better ways of working, creating circles of support, and understanding how care fits within the wider sector. Pippa, along with other Assistant Practitioners, will complete 12 weeks of placements over 2 years with Community Nurses, Social Workers and other partners, increasing her skills and knowledge in assessment, clinical and therapeutic tasks.
One of Pippa's favourite things about the role so far is giving the people she cares for their identities back, and rather than doing jobs for her service users, supports them in managing these tasks alongside her, giving them independence and a sense of achievement. Although she has not been in the role for long, she's already starting to see a real positive difference in the wellbeing and mental health of the people she is working with. Pippa said: "One of my clients has been housebound following a medical procedure 9 months ago, and is working with me towards being able to go out for lunch and a clothes shopping trip with my support – this is something she's really missed. She was feeling really low about having fallen into a pattern of not going out, and this goal, this hope of having something to look forward to, is giving my client a real boost to her mental health. It's so rewarding to see that something so simple can have such a massive impact". The 2-year course is a great opportunity and provides a recognised career path in the Care Sector, which Pippa is really excited about.
Transforming Homecare
Our ambition is to be the provider of choice – to transform the sector to deliver outstanding care. We have a commitment and desire to work with system leaders, to achieve the ambition of home care transformation, to demonstrate that resources can be re-distributed and long-term, savings are achievable, while funding homecare in such a way that providers can employ Care Workers on fair terms and conditions, including salaries.
Community Teams in Homecare
"There is a lot more autonomy for the Carers and the Team Leaders to assess the person, use their own personal knowledge, and make packages of care that are suitable for people, so its personalised and it's meaningful."
With an ageing population, and the pressures on the health and social care system including reducing budgets and financial pressures caused by the current Covid-19 pandemic – now more than ever – is a time to transform home care. The current care system is not fit for purpose and requires radical transformation, investment in the workforce and a culture shift.
In Leeds, we've been selected, along with another provider – to deliver an 18-month homecare pilot – to test the principles of a Community Teams model.
Our Community Teams model will demonstrate that care commissioned through local authority contracts can achieve; better outcomes for people with care services and remunerate the workforce within existing financial constraints. The success of this model lies in the foundations of both a level of capacity and size of delivery, alongside the right structure (see sustainability and operating model sections). The Community Teams model is a flexible model of care in which:
A new

referral and assessment process have been developed with our Social Work Neighbourhood Teams

, so that, we as a care provider, have accountability and responsibility to increase and decrease care for individuals in response to 'crisis' and 'wellness'.

We

invest more time up front, on care planning and assessment, using our 7 Ways to Being Well approach

– to co-design a care service with individuals, and their families – focusing on outcomes beyond personal care and that encourage participation in their local community.

Care Teams are empowered

, providing care for a people (care services) within a locality, are given the space to problem solve flex care services with confidence.
Care Workers to successfully adopt enabling, 'Ways to Wellbeing' and maximising Independence approaches that truly promote independence and keep people at home for longer – minimising, where possible, individuals' need for ongoing care.