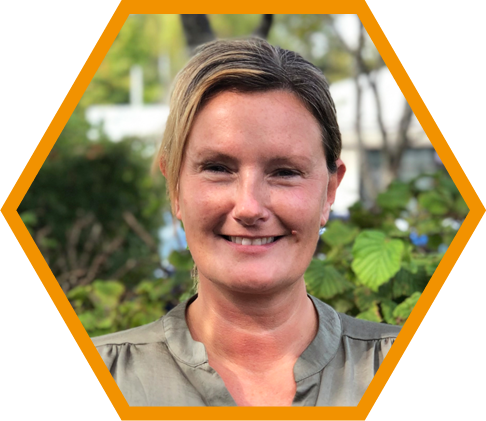 Tina Welch
Operations Manager
Local Leadership
"We have achieved stability in the service and with the team. We have a solid foundation with the revised CQC rating, enabling us to grow safely and consistently. Our office will be relocating to a more beneficial central location. The new structure within the Liverpool service has allowed each member of the team to have a more focused and targeted approach, all working together towards the same goals – to be the best we can be, supporting people to live at home with the quality of life they want."
Overview
We've been providing homecare for people in Liverpool for since July 2017. We have over 100 colleagues providing more than 2,500 hours of care and support every week for 201 people, and their families, in areas including: Anfield, Fazakerley, Croxteth, Norris Green, West Derby, Old Swan, Dovecot, Knotty Ash Wavertree, Picton, Childwall, Gartson, Speke and Belle Vale.
Colleagues who deliver the care they aspire to
Hours of care and support delivered every week
Colleagues that would recommend us as a place to work
Achievements
The previous 18 months have brought about many changes and successes including; a restructure of the Management Team and welcome arrival of Tina Welch (Operations Manager), re-tender and award of Be Caring Liverpool as a Tier 1 provider on the Help to Live at Home framework, and a full CQC inspection resulting in Good rating.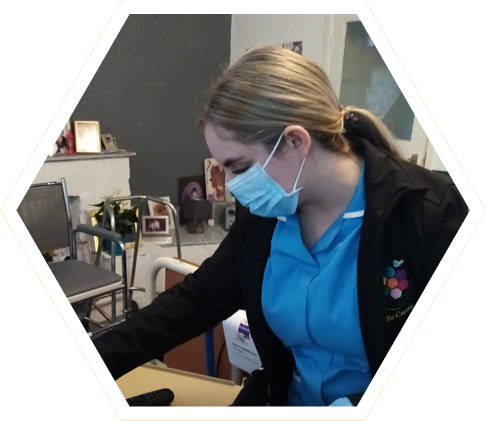 Ellie
Service User
"I can't thank Be Caring Liverpool enough for all the help I've been given over the last few months."
I live with my son, but during the lockdown I was unable to see the rest of my family.  This was so hard for me and I really do feel if it weren't for the carers, I wouldn't have got through it. They always ask how my family are, especially my Dad and Grandson, and they helped me to use Facetime so I could ring my Grandson and see him running round.

My carers also always make time to sit with me and I have built up good relationships with them all.  It feels more like my friends are coming to see me, rather than help towards my medical conditions. 
I was in hospital for 2 weeks during the pandemic and had coronavirus.  When I came home, the carers treated me exactly the same as before, if not even better.  The liquid medication I had to take tasted horrible, but my carers made it easier by having a drink ready for me to have straight after!
I've had other care companies before and had bad experiences. I wanted to find the right company for me. Be Caring came recommended by someone who'd chosen them to help look after their Dad. I'm much happier with my care now – I really can't fault the office team or carers. From the first day the new carers came, I noticed a huge difference – not just in myself but also in my flat which was clean and tidy, just how I liked it.
Our Priorities
ROOM FOR GROWTH
As a service, we've already made significant headway in attracting new Care Workers and retaining that talent. Shifting to a more digital process meant we were able to remove one of our most significant barriers – our office location, which is difficult to get to by public transport, meaning potential new starters frequently dropped out of the process.
OUTSTANDING CARE
We will achieve CQC Outstanding in at least one Key Line of Enquiry (KLoE) at our next inspection
We've made great strides to improve our quality and embed systems and processes to maintain our quality and compliance in key areas of recruitment, training, supervision and support, care planning, risk assessment and care quality. We have more to do, and more to achieve, especially if want to achieve Outstanding in one KLoE.
In meeting this ambition, we now have 2 Community Coaches, who support our Team Leaders around Best Practice visits, providing additional shadowing and mentoring for Care Workers around care delivery, promoting a strong, visible person-centred culture so that:
They know people's preferences.

Champion choice, flexibility and control.

Act promptly to respond to need.

Support community participation
COMMUNITY PRESENCE
We will re-locate our office and become more visible in our communities
Our ambition as a service is to find a new office location, which is more centrally located, with more space for colleagues. We hope this move will continue to support our drive to attract talent to Be Caring, which in turn, will enable us to grow our capacity to deliver high quality care to more people who need it.
We envision our new office as:
A place for colleagues to come together, socialise, share best practice and learn from, and support each other.

Being central to us having a real impact in local communities, being visible with our partners and making those important community connections.
SUSTAINED GROWTH
We will continue to attract and retain talent, helping us to consistently deliver more than 3,000 of care every week
One of our key priorities is to sustain high quality growth, and this will be supported by strong recruitment and retention. We've already seen a significant improvement in recruitment and our turnover has improved by 14%.
We're continuing to make improvements and have implemented a new onboarding process to ensure we offer the right support, early – and settle people into their roles.
Over the next 12 months we will consistently deliver more than 3,000 hours of care and support every week.
Our Colleagues: Meet Jackie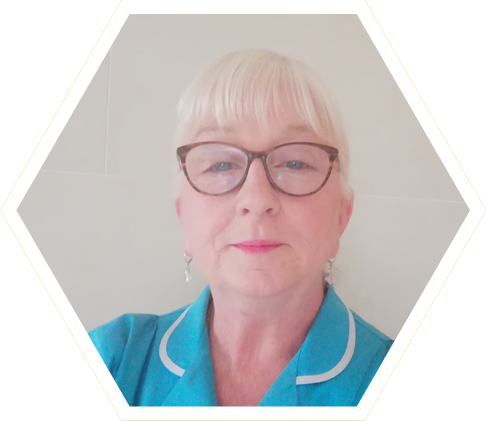 Jackie Seasman
Care Worker
Started March 2018
"Looking back, we've had a lot of change recently, but it's all been for the better. You need change, things need to evolve. The changes I've seen since when I first started are 100% better. It's so much better when you ring in about anything now. I know who's in the office, what they're role is; everyone picks up the

phone."